Recent posts
Community-Based Seed System. Rice Farmer's Guide: Improving seed quality
Lack of quality seed constitutes one of the major constraints to improving rice production in sub-Saharan Africa. The Africa Rice Center (AfricaRice) deeply appreciates your expertise in rice seed production and seed conservation and your contributions to the preservation of traditional varieties. Through this guide, AfricaRice wishes to work with you to find sustainable solutions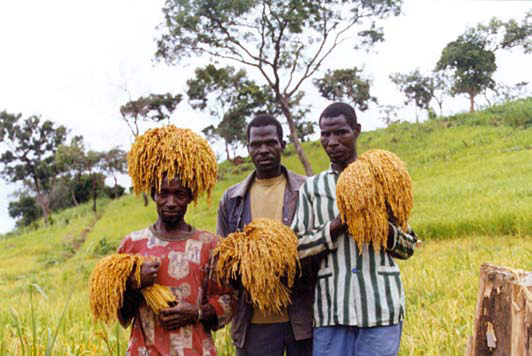 The Community-based seed system: The case of traditional rice farming systems
This manual was elaborated based on farmers' practices and knowledge in seed production, conservation and dissemination. It gives practical guidelines and recommendations on how to improve the farmer-saved seed production system used by farmers from generation to generation, to increase their productivity and market competitiveness. The aim of the authors is to create a permanent
Community-Based Seed System : The Facilitator's Guide
This booklet is a practical guide. It was developed to foster the facilitator's handling of the various training materials of the Community-Based Seed System (CBSS). It covers the various tools and methods used to reinforce the capacity building of seed producers and technicians. It explains in detail how to conduct the three major CBSS workshops:
Latest book
Sélection des plantes
et technologie semencière
Le présent ouvrage représente la deuxième édition du livre intitulé « Production,contrôle et certification des semences et plants » qui avait été publié en 2003 par le cabinet privé BURISEM (Bureau international de semences et plants) – un cabinet de consultance et d'assistance-conseil spécialisé dans le contrôle des champs semenciers, le contrôle de laboratoire et la valorisation des connaissances endogènes en matière de bonne gestion de la biodiversité.
L'ouvrage est le fruit de la collaboration entre deux amis qui ont voulu laisser pour la postérité un outil de formation et de sensibilisation destiné à promouvoir prioritairement la semence améliorée mais ouvrant une fenêtre sur une bonne valorisation de la semence paysanne en tant qu'intrant agricole et vecteur majeur d'innovation, d'échanges culturels et de brassage entre les populations africaines. Les auteurs croient fortement qu'un travail d'introspection sur le rôle de la semence dans la vie de la société sera nécessaire pour assurer un développement harmonieux de l'agriculture des pays africains.
Amadou Beye, PhD. en Biologie / Génétique, Sélectionneur coton et riz,
Spécialiste en ressources phytogénétiques et agriculture familiale
Guillaume Sika, Expert semencier, Consultant international